About Clark Services & Insulations Ltd.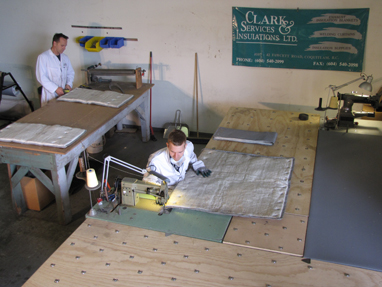 Clark Services and Insulations Ltd. is a Canadian based company, founded by Steve Clark, in British Columbia, Canada.

Steve Clark had been managing an Insulation Blanket product line for another Company for about 5 years when that Company declared bankruptcy. Steve knew there was an opportunity to start a small business focused on the Insulation Blankets alone, so he purchased all the equipment and inventory associated with the Insulation Blankets from the Bank. Steve immediately put a plan in place to start his own Company.

In August of 1986 Clark Services and Insulations Ltd. was established. Steve built a small shop in his back yard where he did the manufacturing. He rented a small warehouse close by to store inventory. He operated the Company from this location for the next 8 years. As the business grew he found himself needing a larger facility where he could do both the manufacturing as well as store inventory.

In July of 1994, Steve purchased a warehouse and moved the business to #107 – 42 Fawcett Road, Coquitlam, B.C. The business operated from this location for over 18 years.

In the latter part of 2009 Steve went into a business partnership with Barry Friesen with the intention of Steve phasing out of the business and Barry becoming the President of the company and purchasing the entire shares of the company. Steve still owned the warehouse and would work as a consultant on a part time basis for the next few years.

Since 1986 Clark Services & Insulations Ltd. has been the industry leader in innovative design and technology. We are committed to using only the highest quality materials, from high temperature fabrics to fiberglass and ceramic insulation materials.

With over 25 years' experience and a commitment to service for their customers Clark Services & Insulations Ltd. has a solution for all of your insulation needs. We deal with all major boat builders, engine and heavy equipment manufacturers as well as many of the power generator enclosure manufacturers.

Clark Services and Insulations Ltd. has been a member of ISNetworld since 2010. ISNetworld is the Global resource for connecting corporations with safe, reliable contractors in capital-intensive industries.

Our extensive knowledge in the insulation industry has created a company that is committed to delivering the highest quality products and a level of service that is second to none.