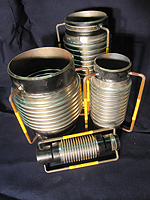 Clark Services BOA Multi-ply Stainless Steel Flex Pipes Provides:
Optimum Flexibility – combined with capacity to withstand internal pressure
Superior Vibration and Shock Resistance – with maximum protection of machinery and piping systems
Longer Cyclic Life – with performance reliability and trouble-free service
ADVANTAGES
Flexibility --The use of thin guage material of the multy-ply bellows combined with a greater number of corrugations per unit length increase the flexibility and reduce the deflection forces due to movement.
Higher Pressure and Lower Thrust Forces --The multi-ply bellows are readily adaptable to higher pressure requirements. By increasing the number of layers and/or modifying thickness of the individual plies, strength is added to resist internal pressure.
Longer Cyclic Life --The contour of the thin gauge multi-walled convolution is designed to keep pressure induced and deflection stresses to a minimum. As a result of the low stress level that the beloows are subjected to during operation, cyclic endurance is substantially improved.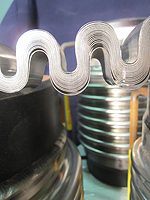 Reliability --Engineering know-how and many years of experience in the specialized field of technology assure reliability, safety and outstanding performance of the unique BOA multi-ply flex pipes.
Minimal Installation Length - Due to high elasticity of the bellow design. Overall length of the standard flex pipes is 12".
STANDARD BOA FLEX PIPES
Temperature -- The bellows are fabricated from type 321 stainless steel and are suitable for temperatures up to 1200 F (650 C)
Fittings --Standard Flex Pipes are furnished with carbon steel welding ends. Flange ends can be ordered conforming to ASA diamensions of the 150 lbs and 300 lbs pressure class.
Size and Pressure Range --Standard Flex Pipes are available in sizes 1-1/2" - 24" nominal diameter for pressure series 85, 150, 300 PSI.
Clark Services stocks 2" - 8" series 85 PSI with an OAL 12"
Shipping Bars - All Flex Pipes come with shipping bars in place which help reduce damage during shipping. The shipping bars help with installation by keeping the flex pipe rigid during the welding or mounting stages. They are easily removed with a grinder once in place.